November 10, 2010 (Atlanta, Georgia) — Certolizumab pegol monotherapy continued to benefit patients with rheumatoid arthritis (RA) in a long-term open-label extension trial, with no new safe signals observed, according to a new report.
The study, presented by Roy Fleischmann, MD, from the University of Texas Southwestern Medical Center, in Dallas, extended results from the FAST4WARD trial, which found that certolizumab pegol (Cimzia, UCB) monotherapy for 24 weeks significantly improved household work and daily activities in patients with RA.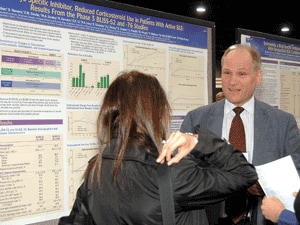 Coinvestigator Ronald van Vollenhoven, MD, from UCB was in attendance at the ACR poster session
Results from the 112-week open-label extension of the trial were presented here at the American College of Rheumatology (ACR) 2010 Annual Meeting.
"Certolizumab pegol monotherapy — without methotrexate or other disease-modifying antirheumatic drugs (DMARDs) — has now been demonstrated to be effective clinically for at least 2 years and to increase normal function for the patient," Dr. Fleischmann toldMedscape Medical News.
In the FAST4WARD trial, 220 patients who had failed at least 1 DMARD were randomized to receive monotherapy with certolizumab pegol 400 mg or placebo every 4 weeks for a total of 24 weeks. The open-label extension consisted of patients who completed the FAST4WARD trial or who withdrew at 12 weeks or after.